Aldie Mansion
At 85 Old Dublin Pike in Doylestown, PA, Aldie Mansion is a fitting home for Heritage Conservancy, a nonprofit membership organization whose mission is to protect our natural and historic heritage. Aldie's story is rich with history and its survival is the result of a cooperative effort at preservation.
Aldie Mansion began its history as a beloved private residence. Commissioned by William and Martha Mercer as an ode to the English Tudor manor, this stately 1927 mansion evokes a time in America when craftsmanship reached an art form. The Aldie gargoyles, intricate brickwork, vintage leaded glass, antique tiles and charming garden ornaments have been faithfully preserved as part of Bucks County's unique heritage.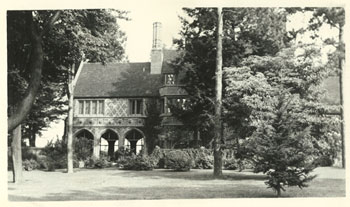 In fact, William Mercer himself sculpted many of the mansion's architectural details. The Mercers were renowned hosts during their years at Aldie, and they regularly welcomed international luminaries into their home. As you stroll about, it is easy to recall the spirited evenings when Groucho Marx joked at the dinner table; Isadora Duncan pirouetted in the garden and the Von Trapp family caroled in the Great Hall.
Today, Aldie's rich history lives on as the headquarters of Heritage Conservancy, and venue site for weddings, parties, conferences and more.
Want to learn more about the history of this incredible building? Schedule a mansion tour by contacting Tammy Schane at 215-345-7020 ext. 107. If you'd like to schedule a tour for a potential wedding or event, please contact Kim Bates at 215-348-3509.
New to 2016: We bring you regularly scheduled tour times for Aldie Mansion!
Aldie Mansion, 85 Old Dublin Pike, Doylestown, PA 18901
Cost: $12 a person, $10 for senior citizens, and $8 for Heritage Conservancy members. Children 12 and under are free but require adult supervision. Call Tammy Schane at 215-345-7020, ext. 107 for more information. To further enjoy the historic heritage of Aldie Mansion, we are opening the mansion's doors to the public for guided tours twice a month. With the addition of the William Mercer artifact exhibit and the newly designed loggia panels, there is a lot to see and learn about. Come take a tour with our newly graduated docents to get in touch with the legacy of the Mercers and the mansion! No reservations necessary (although still suggested). Tours will be given the first Thursday evening of every month at 6:00 and 7:00 PM (1/7, 2/4, 3/3, 4/7, 5/5, and 6/2) and the second Tuesday afternoon of every month at 1:00 and 2:00 PM (1/12, 2/9, 3/8, 4/12, 5/10, and 6/14).