Volunteer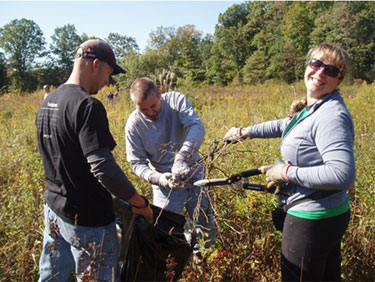 By volunteering for Heritage Conservancy, you help protect and preserve our land and history!
Heritage Conservancy initially began as a small group of volunteers. More than 55 years later, the Conservancy has preserved over 12,000 acres of land and has established itself as a regional leader in conservation. Volunteers continue to be vitally important to the organization.
–Volunteer as an individual – We have many opportunities for individuals to volunteer. Some of our gardening work can be done independently or you can join one of our many committees. If you are interested in volunteering, please fill out our online volunteer form above. For more information, reach out to our Volunteer Coordinator, Shannon Fredebaugh, at sfredebaugh@heritageconservancy.org or 215-345-7020 ext 104.
-Volunteer as a Group – Do you have a school group, class or scout troop that wants to do volunteer work in your community? Do you want to engage your employees in a corporate volunteer work day to benefit the community? We have a lot of properties throughout Bucks and Montgomery Counties where your group can help us make a big impact! To discuss opportunities for your group, please contact our volunteer coordinator, Shannon Fredebaugh at sfredebaugh@heritageconservancy.org or 215-345-7020 ext. 104.
Volunteer FAQs
Volunteer Opportunities
Our Volunteer Community
Volunteer Photo Gallery
Volunteer Login