Heritage Conservancy and The Conservancy of Montgomery County Unite
December 10th, 2012
Heritage Conservancy, an accredited not-for-profit conservation organization that specializes in preserving our natural and historic heritage, is pleased to announce that The Conservancy of Montgomery County will merge all of its programs and conservation easements with Heritage Conservancy, becoming an important strategic element in a larger, stronger organization.
The merger will result in Heritage Conservancy acquiring eleven conservation easements, totaling 126-acres in Montgomery County, Pennsylvania, several historic building facade easements, as well as their historical research project and stewardship funds. Heritage Conservancy assumes responsibility of maintaining the conservation easements, preserved historic structures, and areas of land preserved in Montgomery County.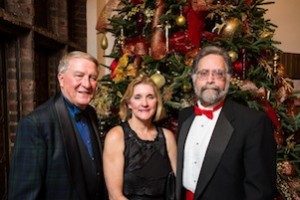 As part of the merger, Mary Lou McFarland, President of the Conservancy of Montgomery County, will join Heritage Conservancy in an important leadership role. As Senior Conservation Specialist for Heritage Conservancy, Ms. McFarland will oversee the continual maintenance of the eleven acquired conservation easements, in addition to the conservation easements in Montgomery County already preserved by Heritage Conservancy. With an extensive background in historical research, she will head historic preservation projects in Montgomery County and surrounding areas as well.
"We are very pleased to join Heritage Conservancy, which will assure the continued protection of the important preserved land and historic resources in Montgomery County," said Ms. McFarland. "I look forward to continuing to work to promote preservation with Heritage Conservancy."
"Heritage Conservancy and The Conservancy of Montgomery County share a common preservation mission. Working together, we will be stronger and more capable of fulfilling that mission," said Jeffrey L. Marshall, President of Heritage Conservancy. "We welcome Ms. McFarland, as she brings local knowledge, experience and expertise to our professional staff. This union ensures the perpetual preservation of Montgomery County's beautiful natural landscapes and historic resources well into the future."