Heritage Conservancy Assists in Preservation of 45-acre Property in Durham Township
January 30th, 2014
Adds to over 1,300 acres of contiguous preserved land in the area
Heritage Conservancy, an accredited not-for-profit land conservation organization located in Doylestown, PA, recently went to settlement to finalize the preservation of a 45-acre property in Durham Township. On December 27, 2013,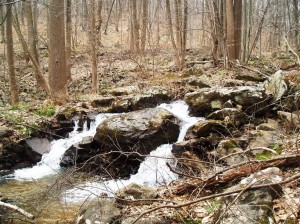 it was made official that the Hoffman property, a piece of land located in the Cooks Creek Watershed, will be protected in perpetuity. The property adds to the over 1,300 acres of contiguous preserved land in the area.
Working as a strategic partner, Heritage Conservancy provided assistance to Durham Township throughout the process of preserving the Hoffman property. In 2010, the Conservancy created an open space plan that identified important natural and agricultural resources within the Township that were high priorities for preservation. Based on the open space plan, the Hoffman property was ranked as a high priority to preserve. This ranking allowed Durham Township to seek funding for its preservation. Bucks County Municipal Open Space Program, PA DCNR, Open Space Institute Bayshore Highlands Fund, and 1772 Foundation all provided funding for the preservation of this integral piece of land. 
The Hoffman property contains a vital source of water: the headwater of Cooks Creek. Had the property been left unpreserved and open to development, it could have had a profoundly negative effect on surrounding areas and their water quality. Cooks Creek is designated as an Exceptional Value Cold Water Fishery under the Pennsylvania Chapter 93 Water Quality Standards. Brown trout and brook trout, both of which are bioindicator species that can only survive in pure cold water, breed naturally in these waters. Their survival is indicative of just how pristine this environment is.
Along with the protection of this waterway, the preservation of the Hoffman property ensures the protection of other vital natural resources. It protects a forested floodplain within the property, and it protects habitat for potentially threatened or endangered species of plants and animals. Not only does the preservation of this property safeguard important natural resources that otherwise could've been lost forever, its protection helps to preserve the rural character of Durham Township.
Laura Baird, the Senior Land Conservationist for Heritage Conservancy who spearheaded the project, provided critical assistance to Durham Township throughout the process of preserving the Hoffman property. She recognized the importance of being able to complete this project. "Because the Hoffman property contains so many crucial natural resources and is part of a larger contiguous area of protected land, it was essential to preserve this property. If it had been left open to development, it would've left a hole in the beautiful tapestry of the landscape in the Cooks Creek Watershed. Heritage Conservancy is pleased to be able to assist Durham Township with the preservation of this exceptional piece of land."
"Due to the continuing joint efforts of Heritage Conservancy and Durham Township, we were able to bring to a reality the crucial preservation of 44.45 acres of prime natural land situated amongst several hundred acres of already preserved farm and natural habitat acreage," noted Joe Kulick, Township Manager and Emergency Management Coordinator for Durham Township.