Heritage Conservancy Assists in Preservation of 50-acre Property in Tinicum Township
April 23rd, 2014
For the second time in less than three years,
Heritage Conservancy has collaborated on a 
preservation project with one of its key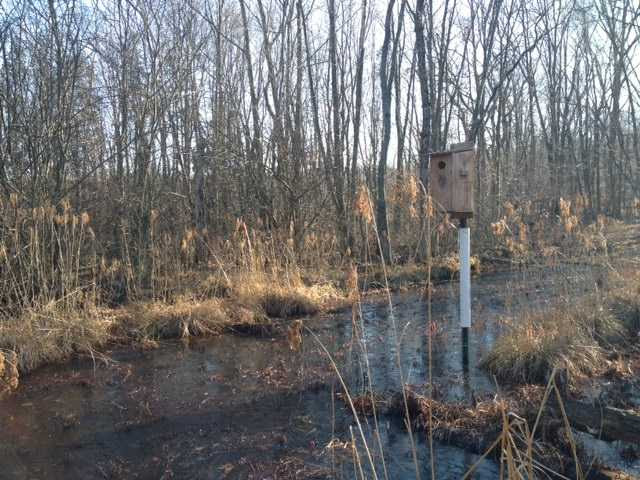 partners, the Tinicum Conservancy.
Their cooperative effort results in the permanent protection of a 50-acre piece of land on Wildcat Road in Tinicum Township, PA, which contains a tributary of Tinicum Creek, a designated Exceptional Value Waterway by the PA Department of Environmental Protection.
Until recently, Heritage Conservancy owned a 20-acre tract of land on Wildcat Road in Tinicum Township that is surrounded on three sides by forest belonging to the PA State Game Lands (PGC). Heritage Conservancy's land was not being used programmatically for hikes or tours, so the Conservancy considered transferring the land over to PGC to join it with the rest of the surrounding property. PGC doesn't accept properties that contain restrictions on what can be done to the land (ie-fracking), and it allows hunting, so this transfer to PGC could have been met with apprehension from nearby neighbors. To alleviate any concerns, Heritage Conservancy reached out to residents in the area to see if they'd be willing to preserve their own land along with the 20-acre tract. Trevor and Linda McNeill, owners of a 30-acre property abutting the fourth side of Heritage Conservancy's 20-acre piece of land, were on board. 
The McNeills, who are longtime supporters of Tinicum Conservancy, decided to place their land under conservation easement with Tinicum Conservancy. This created an ideal opportunity for landowners to collaborate with two land trusts and reach the ultimate goal of preserving as much land as possible. With adjoining properties being individually monitored by two different land trusts, both conservancies would've unnecessarily expended their resources for the maintenance of each had they been placed under separate easements. In a mutually beneficial move, Heritage Conservancy transferred its land on Wildcat Road to the McNeills to allow for one easement with Tinicum Conservancy."The face of land conservation in our region is changing, and land trusts must evolve to succeed. For that reason, partnerships are critical," said Jeffrey Marshall, President of Heritage Conservancy. "Resources are stretched, and by working together, organizations with similar missions can all benefit. Heritage Conservancy did a similar transfer several years ago, and we are happy to expand our cooperation with Tinicum Conservancy."
As a result of a three-way conservation program involving Heritage Conservancy, Tinicum Conservancy, and Trevor and Linda McNeill, a larger tract of land will now be protected in perpetuity for the enjoyment of generations to come. When land trusts work alongside other organizations in the field and view each other as partners rather than competition, the entire community benefits.