Heritage Conservancy Co-Hosts "Heritage of Heart and Home Luncheon" with MileStone Bank
March 28th, 2013
Author Mary Lou Quinlan serves as guest speaker.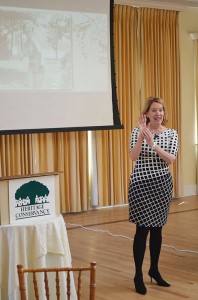 Heritage Conservancy, an accredited not-for-profit conservation organization that specializes in preserving our natural and historic heritage, was honored to co-host, alongside MileStone Bank, a bank that specializes in serving small businesses with a focus on women-owned businesses, the "Heritage of Heart and Home Luncheon" on Thursday, March 14, at the organization's headquarters, historic Aldie Mansion in Doylestown, PA. The event was held as a way of bringing businesswomen together to build friendships and to collaboratively preserve the heritage of our home, Bucks County. Heritage Conservancy and MileStone Bank were honored to host special guest speaker, best-selling author and Bucks County native, Mary Lou Quinlan, who shared her personal heritage and the legacy of faith, life, and love.
With over 75 women in attendance, Linda Cacossa, Chief Operating Officer of Heritage Conservancy, greeted the group with an opening speech that referenced the beautiful land and meaningful historical sites that we have right here in our area. "This place matters," Cacossa said of Bucks County, and Heritage Conservancy works to preserve it.
 Linda Bishop, Senior Vice President of Specialty Markets for MileStone Bank, introduced Mary Lou Quinlan and her newest book, The God Box. Each attendee was treated to an autographed hardback copy with the inscription, "We hope you enjoy this precious story and use it as a source of inspiration to strengthen your own personal heritage." Bishop reminded us all to leave our legacies in Bucks County.
 After she was introduced, Mary Lou Quinlan read to the group from The God Box, a memoir about her mother's gift of faith, love, and letting go. When Quinlan's mother passed away, she left behind ten containers filled with prayers for family, friends, and even strangers that she had written on scraps of paper, each one a window into her mother's mind and soul. The luncheon was filled with laughter and tears as Quinlan's performance took the audience along with her on an emotional journey of her relationship with her mother, her best friend.
 Quinlan concluded with a passage from her memoir about the restoring power of nature. When Quinlan wants to feel more connected to her mother, she goes out to The Sanctuary, a garden that she and her father planted and dedicated to her mother. She feels her mother's presence as she sits on the river stone bench in the middle of the garden.
Her mother's heritage, her legacy, was felt by everyone in attendance.
The God Box is a must-have for mothers and daughters alike. If you'd like to see Mary Lou perform, please visit www.thegodboxproject.com for upcoming local events where she acts out her story with grace and beauty.