Heritage Conservancy Honors Amy and Gary Manoff of Manoff Market Gardens at Annual Business Member Reception
April 29th, 2013
Event Recognizes Significant Contribution to Conservation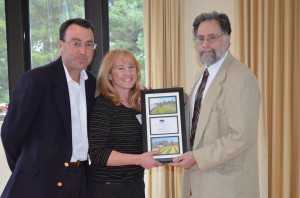 Heritage Conservancy honored Amy and Gary Manoff at its annual Business Member Reception on Thursday, April 18th at the organization's headquarters, historic Aldie Mansion in Doylestown, PA. Mr. and Mrs. Manoff were presented with the Conservancy's 2013 Business Leader Conservation Award.
With attendees that included over 60 of the Conservancy's valued business members, as well as members of Heritage Conservancy's staff and Board of Directors, the event showcased Amy and Gary Manoff's significant and profound contributions to conservation. Founders of Manoff Market Gardens, their farm encompasses many facets of environmentally sustainable business practices, including the adoption of a Soil Conservation Plan to preserve the farm's rich soil and the creation of waterways and terraces to control and reuse rain water runoff. The Manoffs also installed a water conservation irrigation system to hydrate crops while minimizing water waste. Another exercise in sustainability, the farm uses agricultural tunnels that house climate sensitive fruits such as strawberries. These tunnels extend the growing season and reduce the need for pesticide use. As if these efforts in conservation weren't already impressive, Manoff Market Gardens actually resides on a protected property that was preserved and is owned by Heritage Conservancy! This represents a pioneer example of a model partnership between farmers and land trusts that Heritage Conservancy would like to replicate with other properties.
Linda Cacossa, Heritage Conservancy's Chief Operating Officer, and Jeff Marshall, Heritage Conservancy's president, offered their congratulations to the Manoffs. "Manoff Market Gardens continues to cultivate new techniques and revise plans to ensure that their farm runs with the utmost commitment to conservation," said Jeff Marshall. "As a business member and supporter of Heritage Conservancy, we are pleased to recognize Amy and Gary Manoff with the 2013 Business Leadership Conservation Award."
Amy and Gary accepted their award by presenting a slideshow that highlighted their journey from humble beginnings in 1984 to a successfully run farm market. Attendees were entertained and informed while engaged by this heartfelt acceptance. It was clear to everyone that the Manoffs love what they do. 
The reception also honored the many business members who continue to promote the Conservancy's mission through their advocacy and generosity. Heritage Conservancy hosted a special evening where guests felt enthused to support local agriculture.
Sponsors of the event included Eiseman Construction Company Inc., Jeffrey A. Miller Catering, Univest Bank, Brooks and Barber Tree Management, Bucks County Bank, Hill Wallack LLP, Milestone Bank, National Penn Bank, Susquehanna Bank, Omnia Group Architects, The Weimer Group, Van Cleef Engineering Associates, Curtin & Heefner LLP, Dear Garden Associates Inc. and Antheil, Maslow & MacMinn.
For more information – and to become a business member — contact Katie Paone at (215) 345-7020 x108 or via email at kpaone@heritageconservancy.org. Or visit the Business Membership page on our website: http://www.heritageconservancy.org/giving/business-membership/