Heritage Conservancy Hosts Fifth Annual MLK Day of Service
January 23rd, 2013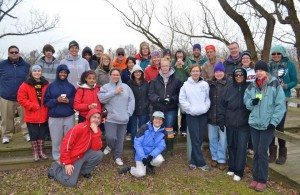 Honoring the late Dr. Martin Luther King Jr. with a National Day of Service on Monday, January 21st, approximately 40 volunteers from Bristol Borough High School, Greenbelt Overhaul Alliance of Levittown, US EPA Region 3, local residents and staff from The Nature Conservancy and Heritage Conservancy joined forces for the fifth consecutive year to help clean up a regional natural and cultural resource: the Bristol Marsh Preserve. Heritage Conservancy, an accredited not-for-profit conservation organization that specializes in preserving our natural and historic heritage, organized the event in collaboration with Bristol Borough and The Nature Conservancy.
Located adjacent to Historic Bristol Borough's Waterfront Park, the 33-acre Bristol Marsh Preserve contains a freshwater tidal marsh and forest habitat with unique ecological significance. An asset to this area, the marsh helps protect the Delaware Riverfront from some of the impacts of flooding and stormwater pollution. Fresh water tidal marshes contain critical natural features that support a wide variety of plants, birds and animals. It is a unique and important environmental resource.
A large part of the marsh is owned by Bristol Borough and is under protection of conservation easements held by The Nature Conservancy. For the past five years, in many different weather conditions, this cleanup has been co-sponsored by Heritage Conservancy, Bristol Borough and The Nature Conservancy to raise awareness of the site's unique historic and natural features. Heritage Conservancy's restoration and educational programs in the marsh are financed, in part, through a Federal Coastal Zone Management Grant, administered by the Pennsylvania Department of Environmental Protection (DEP).
"Our community volunteers and borough staff have been doing such a thorough job these past five years that I was concerned there wouldn't be enough trash to cleanup," said Susan Myerov, Senior Planner for Heritage Conservancy.  "This beautiful area is unfortunately used as a dumping ground for some. Thanks to our wonderful volunteers and the staff of Bristol Borough public works, we hauled away a significant amount of trash and debris."
"This annual day of service at Bristol Marsh is part of an on-going initiative to partner with community leaders, public officials and the public toward a common goal of good will to each other and the environment," said Linda Cacossa, Chief Operating Officer for Heritage Conservancy. "Thank you to the volunteers who participated. Through their effort, we are better able to ensure the preservation of our land and natural resources."