Heritage Conservancy Hosts Fundraiser that Benefits Land Conservation Efforts in Upper Bucks County
October 23rd, 2013
We recently hosted our 2nd annual Art of Preservation Farm to Table Dinner Party in Upper Bucks County on Saturday, September 21st at Historic Kirkland Farm in Springtown, PA. A forecast of rain and thunderstorms did not discourage nearly 200 guests from attending this fundraising event that benefits land conservation in the Cooks Creek Watershed located in Upper Bucks County.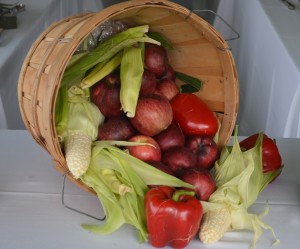 Featuring a menu of locally-sourced food prepared by Jamie Hollander Gourmet Foods, guests enjoyed an outdoor cocktail reception followed by a sit-down dinner underneath open canopies amidst 180 acres of idyllic open fields, pastures and woods. Members, business members, board and staff of Heritage Conservancy were in attendance, as well as special guest speaker, Congressman Mike Fitzpatrick. During the dinner, Jeffrey Marshall, president of Heritage Conservancy, publicly thanked Don Metzger for preserving one of the largest tracts of land in Springfield Township.
With over 4,600 acres of land permanently preserved in Springfield and Durham Townships, Heritage Conservancy has worked tirelessly to protect the natural resources of Upper Bucks. Two maps located side-by-side in the event's program book displayed the expanding tracts of preserved land. Jeffrey Marshall expressed the organization's outlook on its work in the area. "We're full of hope. We're full of hope for what we can do, what we have done, and what we will continue to do in the Cooks Creek Watershed." He went on to say: "It's wonderful to see this enthusiasm for our work as we continue to move forward in preserving the natural resources of this region."
An important topic of the evening focused on the Fuller Preserve, a 65-acre property owned by Heritage Conservancy in Springtown Township. On this property sits the Jere Knight Trail, a 1.2-mile trail named after the wife of novelist Eric Knight who wrote Lassie Come Home; Jere Knight was a strong advocate for open space in Bucks County. The trail, which hosts the unique feature of an American Chestnut Tree nursery, was previously used as a tree identification walk but became damaged largely in part from storms such as Hurricane Sandy. Melinda Stumpf, Regional Affairs Director for PPL, presented Heritage Conservancy with a generous check to assist with restoration. "Improving the quality of life in our communities by being good environmental stewards is a core PPL value," said Melinda Stumpf, Regional Affairs Director. "We are pleased to help support the re-opening of this trail with a donation of $10,000."
Congressman Mike Fitzpatrick spoke out as a strong proponent of the work that the Conservancy does in the Cooks Creek Watershed. "Other than Heritage Conservancy, the critical natural areas really didn't have an advocate–those areas are the steeply wooded slopes, the riparian buffers, and the highlands. From the very beginning, I was so thankful to have met Jeffrey Marshall and his team at Heritage Conservancy because they were the advocates standing up for pieces of property that nobody else was speaking for." Congressman Fitzpatrick's passion for protecting our area's natural resources was evident throughout his speech. "Of all of the legacies we could bequeath the future generations, one of the most precious is the unsurpassed beauty of the Bucks County countryside."
Heritage Conservancy is more than hopeful that the work it's doing will allow future generations to enjoy this unsurpassed beauty.
PPL was lead corporate sponsor of the event. Bronze level corporate sponsors were Coopersburg & Liberty Kenworth, Dale Koller Farms, and Johnson Kendall & Johnson Inc. Event supporters were Carol C. Dorey Real Estate, Kimberton Whole Foods and WPB Enterprises, Inc.