Heritage Conservancy Volunteer Receives Award at Volunteer of the Year Event
July 15th, 2013
Heritage Conservancy is pleased to announce that Kevin Kester, one of the organization's dedicated volunteers, was honored as an outstanding volunteer citizen at the Volunteer of the Year event. Hosted by Central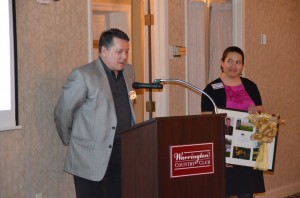 Bucks Family YMCA, the event took place on Thursday, April 25 and recognized thirteen volunteers and the organizations they serve.
Kevin Kester, who works as the Director of Landscape Architecture and Planning Van Cleef Engineering, has been a volunteer with Heritage Conservancy for over seven years. For the past four out of those seven years, Kevin has held the position of co-chair for Heritage Conservancy's Business Membership Committee. In this leadership role, Mr. Kester manages with great enthusiasm a committee of professionals who help to further the mission of the organization through business outreach. Using his landscape architecture skills, he also helped to develop a landscape plan to convert a storm water detention basin into a wildflower meadow on the Aldie Mansion property, Heritage Conservancy's headquarters. The conversion transformed the basin into a more natural habitat that attracts wildlife such as birds and butterflies. Mr. Kester is also a volunteer property steward of Jackson Pond, a property owned by Heritage Conservancy in Buckingham Township. He monitors the property twice a year to ensure the property remains in good condition and reports back to the organization on his findings.
"The gift of your time is so precious and you are generous with it.  Sometimes it is a quick phone call for some advice and other times it is a more involved brainstorming session. You have such a willing spirit." said Robin Folkerts, Vice President of Development & Community Engagement for Heritage Conservancy, to Mr. Kester while presenting him with his Volunteer of the Year award. "It doesn't matter the task, you are ready to lend your helping hands in any capacity to further our mission."
It is volunteers like Kevin Kester who make this area a better place to live. Thank you to all volunteers who give their time to contribute to the beauty of our community.
If you'd like to volunteer for Heritage Conservancy, call 215-345-7020 or visit http://www.heritageconservancy.org/giving/give-your-time/