Heritage Conservancy's Upcoming "Concerts in the Garden" Has Music For Everyone
July 12th, 2014
Coming off of the success of its first show of "Concerts in the Garden," Heritage Conservancy is thrilled to provide guests with an eclectic mix of musicians and talent at the next show of this outdoor summer concert series. The upcoming event will be held at the Conservancy's headquarters of historic Aldie Mansion in Doylestown, PA, on Wednesday, July 16th, from 6:30 to 8:30 PM.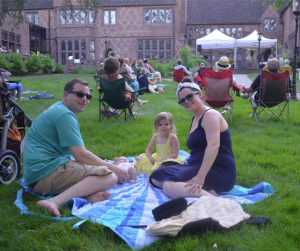 Just as William and Martha Mercer, the original owners of Aldie Mansion, held outdoor recitals on the lawn over 85 years ago, Heritage Conservancy is keeping this tradition alive by hosting "Concerts in the Garden." While the heritage of the mansion serves as a backdrop, musical performances will showcase the local talent that we have right here in our community. Performing musicians for the evening are the Bucks County Playhouse Youth Company (with songs from Beauty and the Beast!), a barbershop quartet from Bucks Country Gentlemen, Faith and Practice, and a jazz duo with Art D'Angelo and Bob Miles. This group of musicians is sure to please music lovers of a variety of genres.
The first "Concerts in the Garden" show boasted close to 100 guests in attendance, and the Conservancy has hopes to top that number with this next concert. To view photos from the first event, click HERE.
The last show in the three-part series will be held on August 13th. For more information, contact Tammy Schane at 215-345-7020 ext. 107.
Date: Wednesday, July 16, 2014
Time: 6:30-8:30 PM
Where: Aldie Mansion, 85 Old Dublin Pike, Doylestown, PA 18901
Cost: Free to the public; special benefits for members
Concert is rain or shine. Performances will be moved indoors in the event of inclement weather. Alcohol is prohibited, and child supervision is required. Bring your own chair or blanket and a bite to eat. Get ready to have some fun!