Bristol Marsh: An Important Natural Resource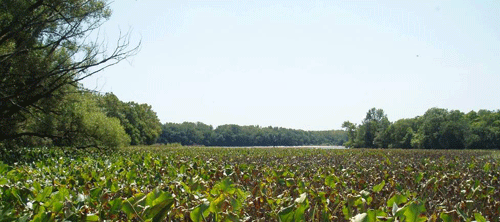 Heritage Conservancy has been working as a local partner to The Nature Conservancy to promote the ecological restoration and stewardship of Bristol Marsh, located in Bristol Borough in Bucks County, Pennsylvania. The marsh lies along the main stem of the Delaware River and is a freshwater tidal marsh, a special type of wetland found in coastal areas but rare in Pennsylvania.
The marsh is a unique and important environmental resource. It's an asset for this area and helps protect our riverfront from some of the impacts of flooding and stormwater pollution. Fresh water tidal marshes are rare and fragile ecosystems that support a wide variety of plants, birds and animals. The plants help filter water before it enters the Delaware River and minimizes flood water and stream erosion. According to The Nature Conservancy, Bristol Marsh is one of the best remaining examples of this natural community in Pennsylvania.
Public access to the marsh is available. The Marsh is next to Bristol Borough Riverfront Park. It is also at the end of the Delaware and Lehigh National Heritage Corridor trail which follows both watered and filled portions of the Delaware Canal. Northeast of the Marsh is the Bristol Historic District, the Spurline Trail, and the Silver Lake Nature Center. The marsh is definitely worth a visit!
Watch Heritage Conservancy's virtual tour of the Bristol Marsh Nature Preserve:
————————————————————————————-
Download our Bristol Marsh Teacher's Manual to use as a supplemental resource for teaching about the marsh.
————————————————————————————-
Directions to Bristol Marsh Viewing Areas
If you are using a mapping program or GPS, use this address:
159 Basin Park
Bristol PA, 19007
Here's a tool that can help you plan your trip to Bristol Marsh using multimodal methods, combining biking, public transit, and/or hiking: GoPhillyGo.org. Find Bristol Marsh as one of the Featured Destinations, and click "Find Directions."