Historic Bucks County Farms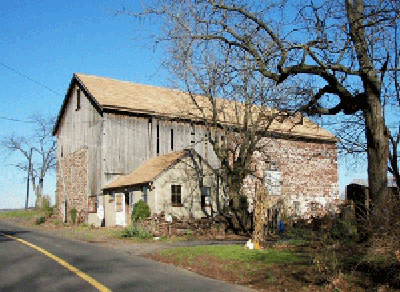 Historic Bucks County farms produce much more than just farm products. Surrounding communities reap many benefits from farms, particularly those that have been permanently protected. Preserved open space, a continued rural lifestyle, and the prevention of urban sprawl are some advantages. More specific agricultural values include long-term food security, fresh food and support to local farmers. Yet another benefit is the protection of our rich rural heritage.
The earliest barns in Bucks County were modest, log buildings. By the mid 1800's, post-and-beam construction became standard: massive timbers made up the frame and were held together with wooden pegs. These barns were built in a variety of styles and sizes and used differing materials. The later barns were almost completely Americanized, although some of the earliest barns reflected the builder's national origin. Barns are the most dominant structure on a historic farmstead. Barns provided shelter for livestock, storage for grain and hay, housing for tools and equipment, and a site to perform various work activities.
When not being used for work, barns doubled as centers for social events like barn dances and husking bees. The act of erecting a barn was also a social event. "Barn raisings," as they were called, offered a welcome break from the isolation of everyday work life. With the steady increase in mechanized farming during the twentieth century, barns became increasingly less essential to a farm's operation. Other, more specialized structures were developed to house machinery and store crops. By drawing attention to the importance of preserving the unique, historic elements of Bucks County's rural heritage, the legacy can be passed on to future generations.
The properties highlighted in the brochure attached below were taken from the Fresh From Bucks County Farms: A Guide to Roadside Markets & "Pick Your Own" Farms brochure and only includes properties where the owners have agreed to be in this publication.
Credits: All text and photographs unless otherwise noted are by Diane Cuthbertson and Jeffrey L. Marshall
This project was made possible through a grant from the County of Bucks and the Bucks County Conference and Visitor's Bureau.