Shaping the D&L Drive
Locations
Bucks, Carbon, Northampton, Lehigh & Luzerne Counties, Pennsylvania
Services
The Delaware & Lehigh (D&L) Canal National Heritage Corridor is a 150-mile region in eastern Pennsylvania nationally recognized for its important history and rich cultural and natural resources.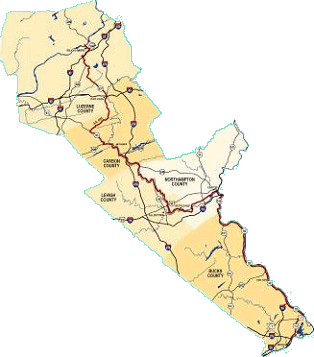 A Management Action Plan for the D&L Corridor was adopted in 1993. Since then, more than 110 community development projects have been completed to protect the natural and cultural resources that exist along the Corridor and to enhance their visibility through a variety of conservation, preservation, interpretation and economic development tools. A number of the projects focused on upgrading the Delaware & Lehigh Canals and on building the D&L Trail to interconnect over 100 communities along the 165-mile Corridor.
To maximize resource protection and sustainability benefits, the Management Action Plan also envisioned the establishment of a Delaware & Lehigh Drive (D&L Drive) that would link municipalities and help visitors navigate the Corridor. In 2004, with funding from the Pennsylvania Department of Conservation and Natural Resources and the Delaware & Lehigh National Heritage Corridor, Heritage Conservancy prepared and presented a publication titled Shaping the D&L Drive to educate local leaders about the scenic byway planning process and to help communities located along the D&L Drive coordinate their efforts to create an enjoyable journey. View this publication [1.8MB PDF].
The scenic byway approach recognizes a roadway for the integrity of its scenic, natural, historic, cultural, archaeological and recreational resources and encourages economic development through a variety of conservation-based practices. Official designation as a scenic byway at the state and federal level opens the door for greater flexibility in making improvements along the scenic route and provides access to a federal funding program for implementing roadway, interpretive, resource protection, support services, marketing and recreational projects.