Beginning in the 1930s, the Honey Hollow Watershed developed unprecedented soil, water and wildlife conservation measures that served as a national model for intergovernmental approaches to watershed preservation.  Building on a rich legacy, the Honey Hollow story is an invaluable resource for our ongoing education on national watershed viability. 
In partnership with the Bucks County Audubon Society, Heritage Conservancy held a symposium available for free to the public to explore the rich legacy of cooperative stewardship that began at Honey Hollow Watershed, the nation's only National Historic Landmark dedicated to conservation, and how we can address existing and future threats to the health of our local and regional watersheds by working collaboratively. Presentations, workshops, tours of the watershed area, demonstrations and interpretive displays offered information about soil erosion's impact on watersheds, actions that can be taken on individual properties to help improve watershed health and the newest techniques for maintaining healthy soils. 
The documents from the symposium included on this page serve as a guide for anyone interested in following the conservation measures enacted at Honey Hollow Watershed on their own property. These guidelines will prove beneficial for gardeners and farmers who want to improve their soil to grow healthier plants and better food, landowners who want to prevent streambank erosion and homeowners who want to utilize their own backyards to reduce pollution. 
Interpretive Posters of the Honey Hollow Watershed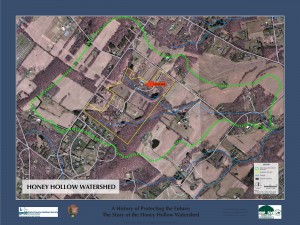 Presentations from the Honey Hollow Watershed Symposium
Walking Tour of the Honey Hollow Watershed
Use this map and tour points as a guide!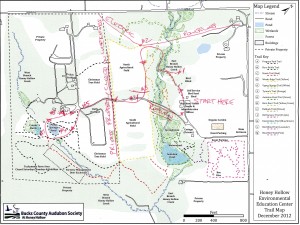 To view photos from the event along with historical photos, click HERE.